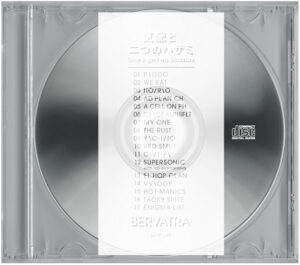 気配と二つのハサミ
---
Title : 気配と二つのハサミ
Artist : BERVATRA
Cat No : SVTP-005
Release Date : April 2nd 2018
Format : CD/Digital
Mixing by : Shinichi Suda(Towth)
Mastering by : Chihei Hatakeyama
​Artwork : Kosaku Shimamoto
Track list
01. PODO
02. WE RAT
03. IIO/RO
04. AD PLAN CH
05. A CELL ON PH
06. CECEAPIIIFLT
07. MY ONE
08. THE RUST
09. YC-I/IO
10. RED SMUT
11. C-VT-P
12. SUPERSONIC with takaramahaya
13. EL HOP CLAN
14. VVOOP
15. HOT MANICS
16. TACKY SPITE
17. ENIGMA LIST
Reinstallation – The embodiment of Electronic Music
Sound, never fixed by nature. In this work, using organic materials found in the daily life, molding them into a standardized beat, that enforces the presence of events that pass by without thinking.
Are the emotions contained in these sounds that would by nature disappear being brought back to stay? Their work has succeeded in giving an answer to this question.
Catching and cutting as if with scissors the sounds that appear and disappear in daily life and putting them into the continuous waves that make up the audio files.
These man-made artifacts that make permanent what is supposed to disappear, don't they elicit a sort of addictive pleasure with their artificiality and mysticness?
You can see how takaramahaya, graphic designer and active member of Tokyo Shiokoji, suggests what the difference is between ordinary and extraordinary sounds are.
BERVATRA, formed by the union of Suda, creative director with years of experience under his belt, and filmmaker Shimamoto. These people are seriously researching these questions. This mysticness and cunning are certainly the smell of the night.
---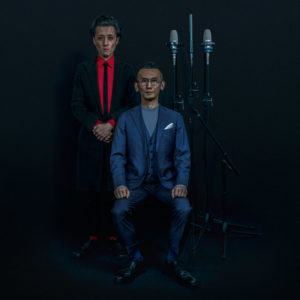 BERVATRA
Official: https://www.bervatra.jp
Formed by musician and creative director Shinuchi Suda and filmmaker Kosaku Shimamoto. From 2010, based on the concept of "creation by improvisation and the sound of dance music", they have been holding concerts in which they use microphones not normally used on live performances, such as condenser, binocular or gun microphones. With these they would record sounds live and use them to create rhythm patterns, to which they would add effects, improvising and creating a new song on the spot. In 2011 they developed their own original real-time sampling system, which could be seen as the cornerstone in the development of their music production style. In 2012 they put music to the 2013SS collection of fashion brand YEAH RIGHT!!. In 2013, after creating the music for the presentation show of the 2013-2014AW Tokyo Collection "Here&There", they updated their system, allowing them now to create rhythm patterns layering various sampling sounds on top of each other. They starting introducing sounds not only from inside the studio, but from towns, stations, the inside of cars, restaurants and so on. In 2015, they started introducing this system that until now had been confined to the production of music to live performances, improvising while sampling the sounds of the place on real-time. This same year they released their first digital album "BERBERVATRA # 001 Indoor". At the S/S 2018 Tokyo Collection of fashion Brand YEAH RIGHT!! they are expanding their scope with activities such as music production and direction.
Shinuchi Suda
Musician and creative director. In 2016 debuted as Twoth with Powershovel Audio. He participated in the production of TV commercials for Google and Sony, in the creation of the song "Otoppe" for the online NHK TV channel and collaborated producing music with numerous artists. In 2012 he was the first japanese to receive the music award in the Annecy International Animated Film Festival. Having the unique experience of working as chief designer for Issey Miyake and Final Home, he is also the creative director of product brand TALKY・PEOPLEAP and continues developing his music activities regardless of the genre.
Kosaku Shimamoto
Filmmaker.